Step inside 5 magnificent luxury properties in Croatia
If you ever wanted to step into the world of luxury real estate or you would like to find new inspiration for your next house, you should definitely watch the new Netflix show "Selling sunset". This is an American property series centered around multi-million dollar homes in LA.
Luxury properties featured on the show are stunning, but if you are looking for similar luxury properties in Europe, with some Mediterranean flair you are in the right place.  At Move Croatia Real Estate agency we have a database of some of the most unique luxury beach houses in Croatia.
Join us and take a peek inside the 5 luxury "Selling sunset" beach houses in Croatia.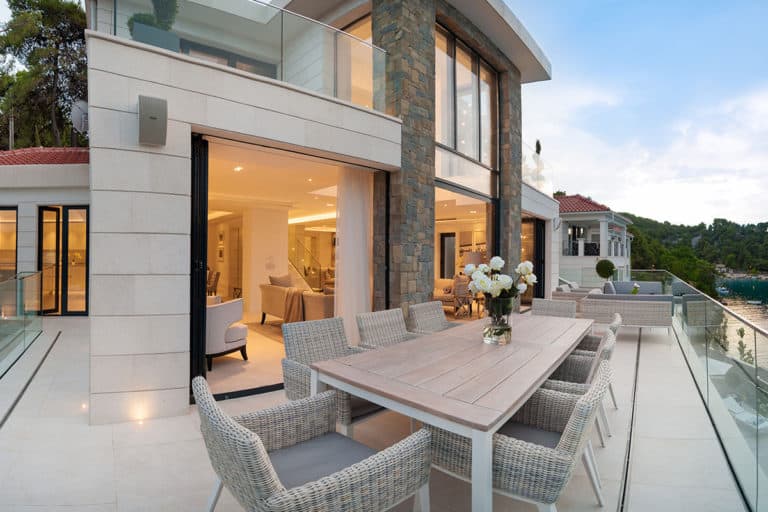 1. Villa Ivy, the island of Brač
A stunning eco-friendly seafront luxury villa on the south side of the island of Brač is a true representation of modern and traditional Dalmatian architecture. The real selling point of this beach house is visible when you step outside – unique views on the Adriatic sea and the town of Sumartin as well as private access to the beach with a yacht mooring.
The winner of European property awards and one of the rare properties with 5-star categorization for a luxury rental house is located in the beautiful seaside village of Selca. Besides the unrivalled location, at Villa Ivy, you will be able to enjoy stunning panoramic sea views and privacy. 
This is a great place for people who like alfresco living, and this is clear right away once you step outside on the terrace. The seafront terrace that wraps the villa includes an infinity pool, an outdoor dining table, and steps leading directly down to the beach and shoreline. Individually and stylishly decorated with uncluttered elegance, all the rooms are open out onto terraces with fabulous views over the bay of Sumartin and the Biokovo mountain range.
Click below and take a look at Villa Ivy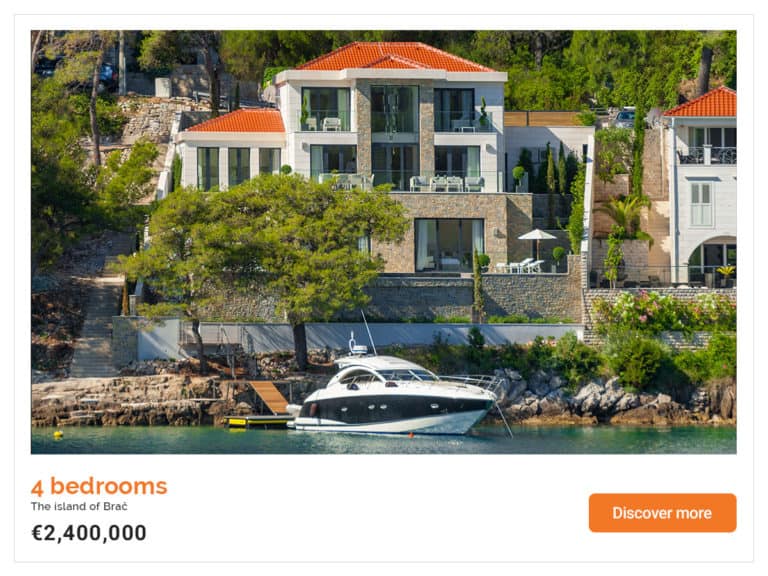 2. Seafront villa on the island of Korčula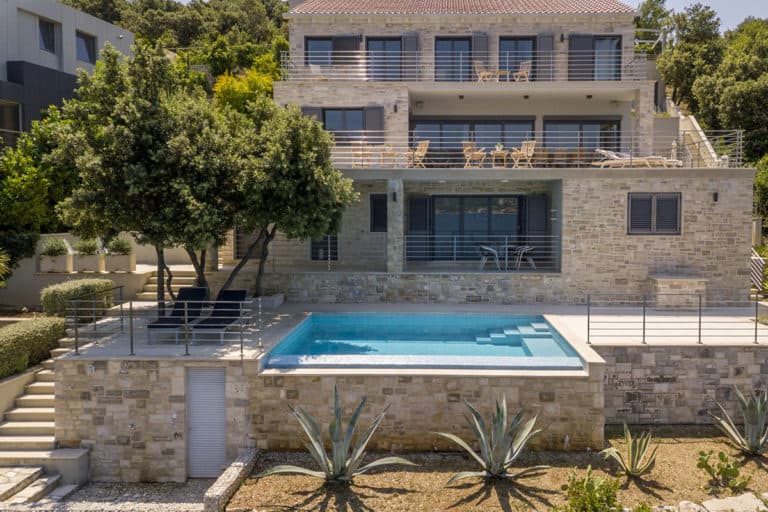 Enviably positioned on a stunning seafront location on the island of Korčula, this luxury residence ( on market for almost €2 million ), is set over 3 levels and has unreal sea views on each level.
Both the interior and exterior of the villa offer a design of clean lines and simple features with tasteful decor. The beach house offers complete privacy with a hedged fence and trees. It is set on a land plot of 860 sq. meters and surrounded by a nicely decorated outside area. On the property, there is also a separate area for the staff with the bedroom and a bathroom. You can easily relax in a heated 4 x 6 meters infinity swimming pool, which also has a sound system. If you had in mind other types of activities like yoga or just sunbathing you will have enough space at your disposal, thanks to the multiple sea-facing terraces.
If that is not enough, this beach house includes an outdoor grill alongside a comfortable lounge area. On the back of the house, there is a staff room equipped with a single bed, bathroom, and kitchen. There is also a large private parking space for 3 vehicles and you will also have a possibility for a private boat mooring.
Click below and take a look at this seafront villa on the island of Korčula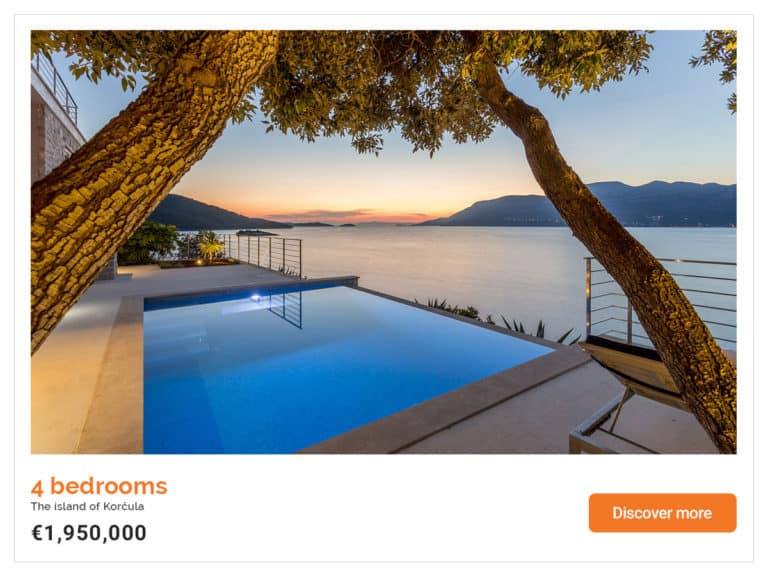 3. Seafront villa on the island of Čiovo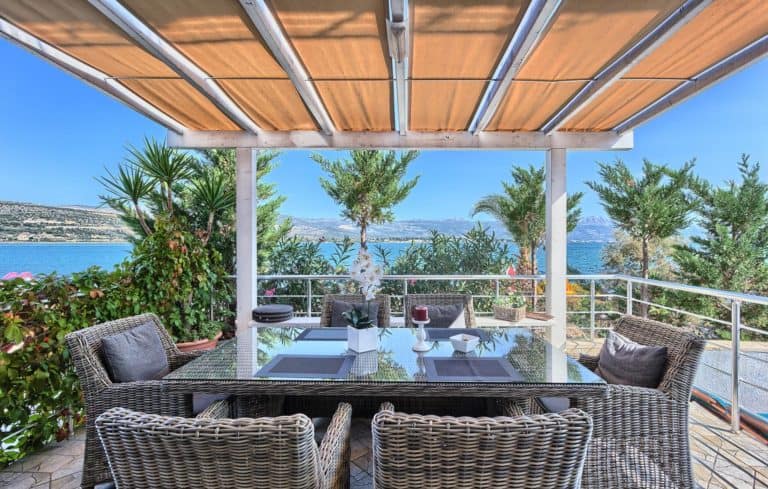 If you are looking for exclusivity and privacy and a true Mediterranean oasis, this modern beach property on the island of Čiovo is definitely for you. Villa is set only a couple of steps from the beach in the peaceful area of Čiovo. It occupies a prime location with beautiful sea views and immediate proximity to the renaissance town of Trogir.
This 5 bedroom villa spread over three floors definitely falls into the category of contemporary house, boasting plenty of luxurious extras such as an outdoor dining area, pool, and a gym.
Villa comes fully equipped with nicely designed furniture combining the best of Mediterranean and modern style. The thoughtful and intelligent design has created a light and airy atmosphere that flows seamlessly to the terraces, embodying the indoor-outdoor lifestyle.
Click below and take a look at this seafront villa on the island of Čiovo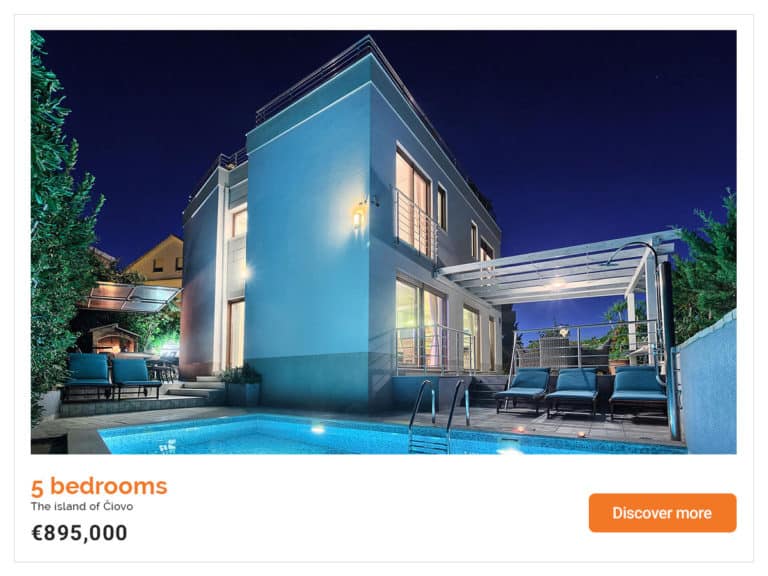 4. Mediterranean paradise on the island of Brač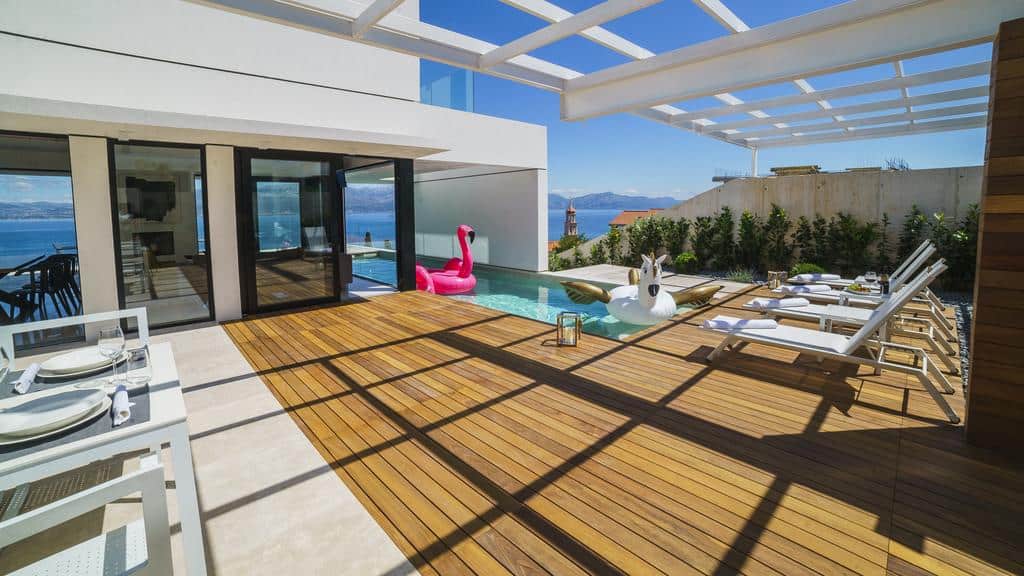 Perched on a stunning hilltop location in the small seaside town of Sutivan, this properly plush residence is set over three floors and has an indescribable view. 
The idyllic location, boasting beautiful views of the surrounding untouched nature, is matched by beautiful terraces that guarantee the most memorable moments in this modern villa. The unique concept was based on the idea of spreading the sense of timeless natural beauty and sophistication emphasizing traditional stone and glass.
The total inside area of the house is approximately 360 square meters with 4 bedrooms, 6 bathrooms, a modern kitchen, and a spacious living area.
Click below and take a look at this seafront villa on the island of Čiovo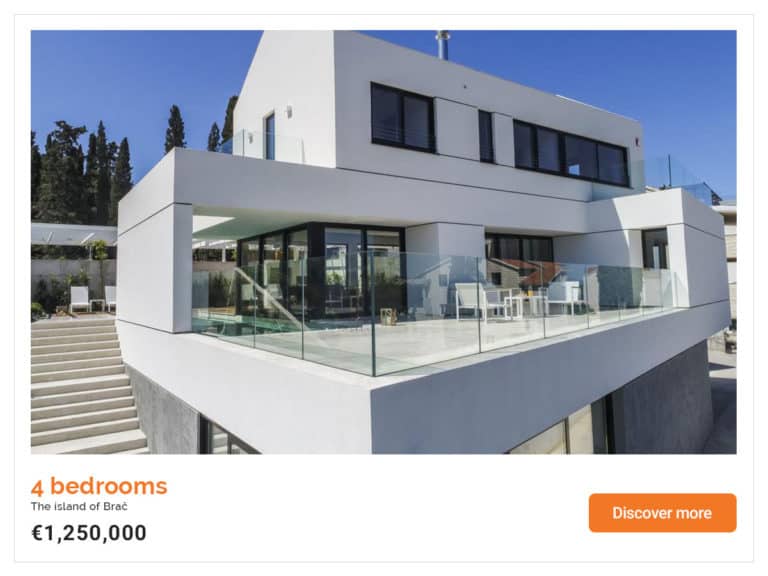 5. A private estate near Dubrovnik
Ever wanted to have a beautiful Mediterranean estate with guaranteed privacy? This estate with two houses is a true representation of a vintage Mediterranean, and it can be found in one of the most exclusive neighborhoods in Croatia.
The estate has a south orientation with large terraces and a swimming pool overlooking the panoramic views providing you the most enjoyable moments on this property.
Inside both houses are very sleek and stylish, and of course luxuriously cozy. The estate boasts exceptional views on the Adriatic sea and the nearby Elaphiti islands have a garden with palm and olive trees and are near one of the most beautiful cities in Europe – Dubrovnik.
Click below and take a look at this private estate near the city of Dubrovnik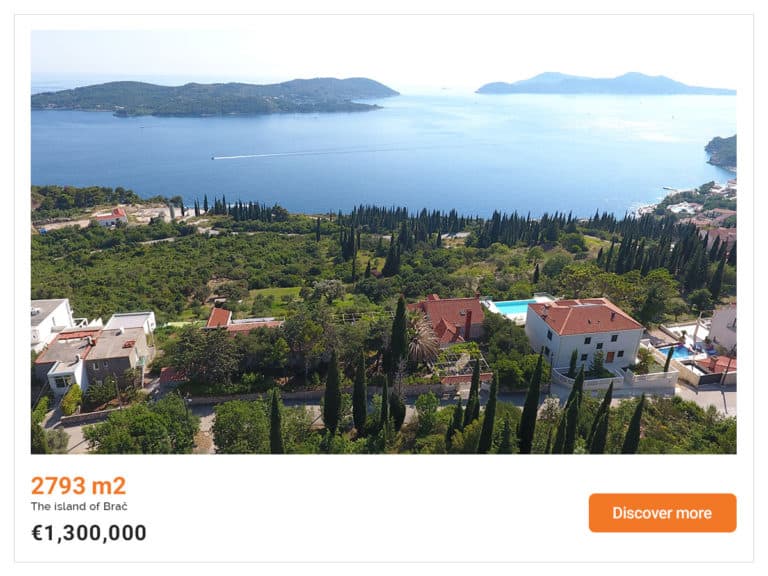 Date released: September 17, 2020