Where is the Šibenik region?
Šibenik-Knin county is a part of Central Dalmatia. It covers the coastal and rocky hinterland area between Split and Zadar. The town Šibenik – the capital of the county, is about 80 km away from Split and Zadar. With the modern A1 highway it will take you approximately one hour to reach them.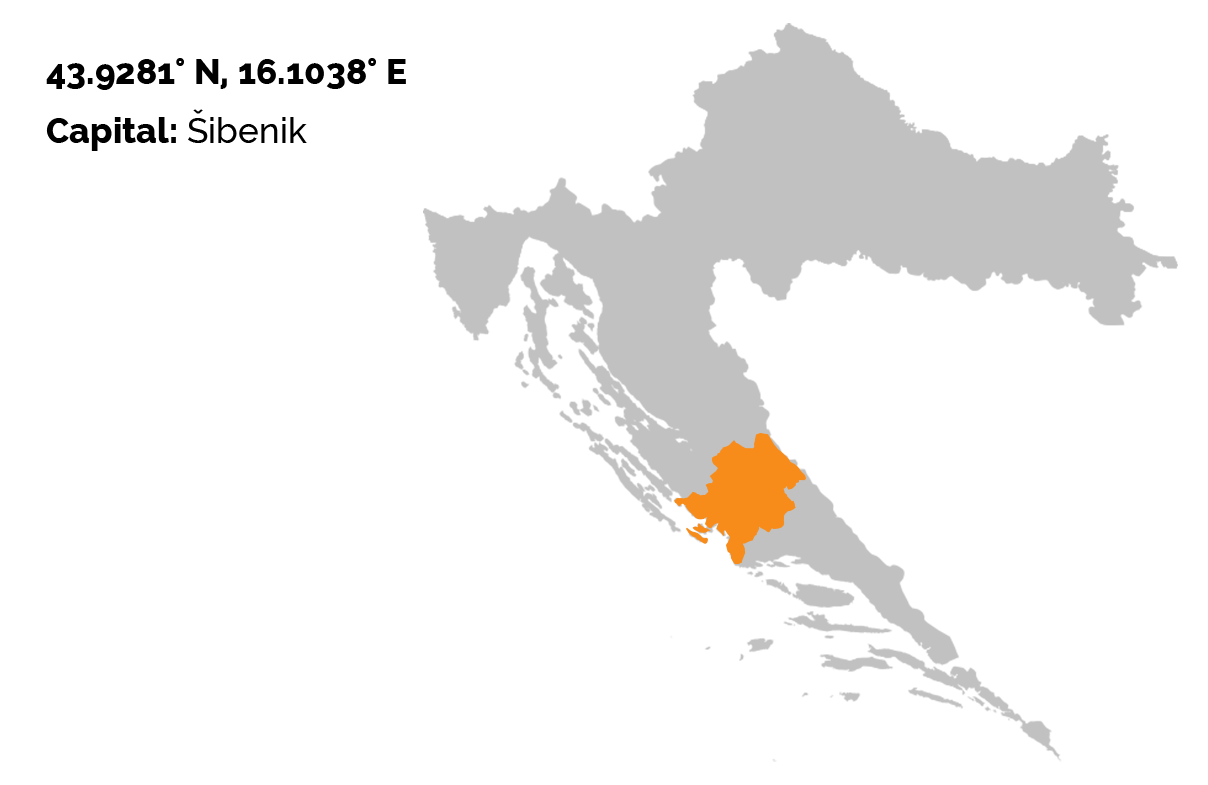 Is the Šibenik region easy to access?
Šibenik-Knin county is very easy to access. You can reach it easily by car, bus, train or plane. If you are traveling by car and coming from the northern side, you have 2 possibilities. The main A1 highway which goes from Zagreb (and is connected with Ljubljana in Slovenia and Vienna in Austria), if you are looking for a faster way to reach Šibenik. The A1 is a toll highway, and the distance between Zagreb and Šibenik is approximately 300 km. The cost of this travel is 154 know for a car.
The second option is the older Adriatic highway, also called "Magistrala". This road use mostly travelers who plan on making several stops on the Croatian coast. Bus lines are also using these two roads. Recently they usually go through the A1 highway because it's faster.
Train lines go from Zagreb, which again, has great connections to the other European capitals. Using a train is good for travelers who want to explore less known regions, and also this is the cheapest way to reach Šibenik-Knin county.
Šibenik-Knin county is surrounded by two airports – one in Zadar and one from Split. Zadar and Split have year-round flights by Croatian Airlines and low-budget flights by Ryanair, Germanwings. Both of these airports have buses connected to the main city station of Šibenik.
Useful links to reach and travel in Šibenik-Knin county:
Is the Šibenik region a good place to live?
You will probably never see such natural diversity in one place. On one side, there are lots of uniquely shaped islands and a coast with a clear sea and long beaches. On the other is a rocky terrain filled with water springs, lakes, and rivers. The best way to have a complete experience of all this is to visit National Park Krka with its combination of waterfalls.
The beautiful nature is complemented by charming towns with classic Mediterannean appearance and spirit. The main attractions are in the royal city of Šibenik with some of the most breathtaking renaissance architectural works in the world.
The real estate prices in Šibenik-Knin county are similar to those in other coastal areas in Croatia. This applies mostly to the locations – waterfront properties are more expensive than properties outside of towns or in the hinterland area. Recently most popular property searches in the Šibenik region include smaller towns and islands. The living costs in Šibenik-Knin county are not different comparing the other parts of Croatia. Comparing with the other Mediterranean and destinations in Western Europe it is very affordable.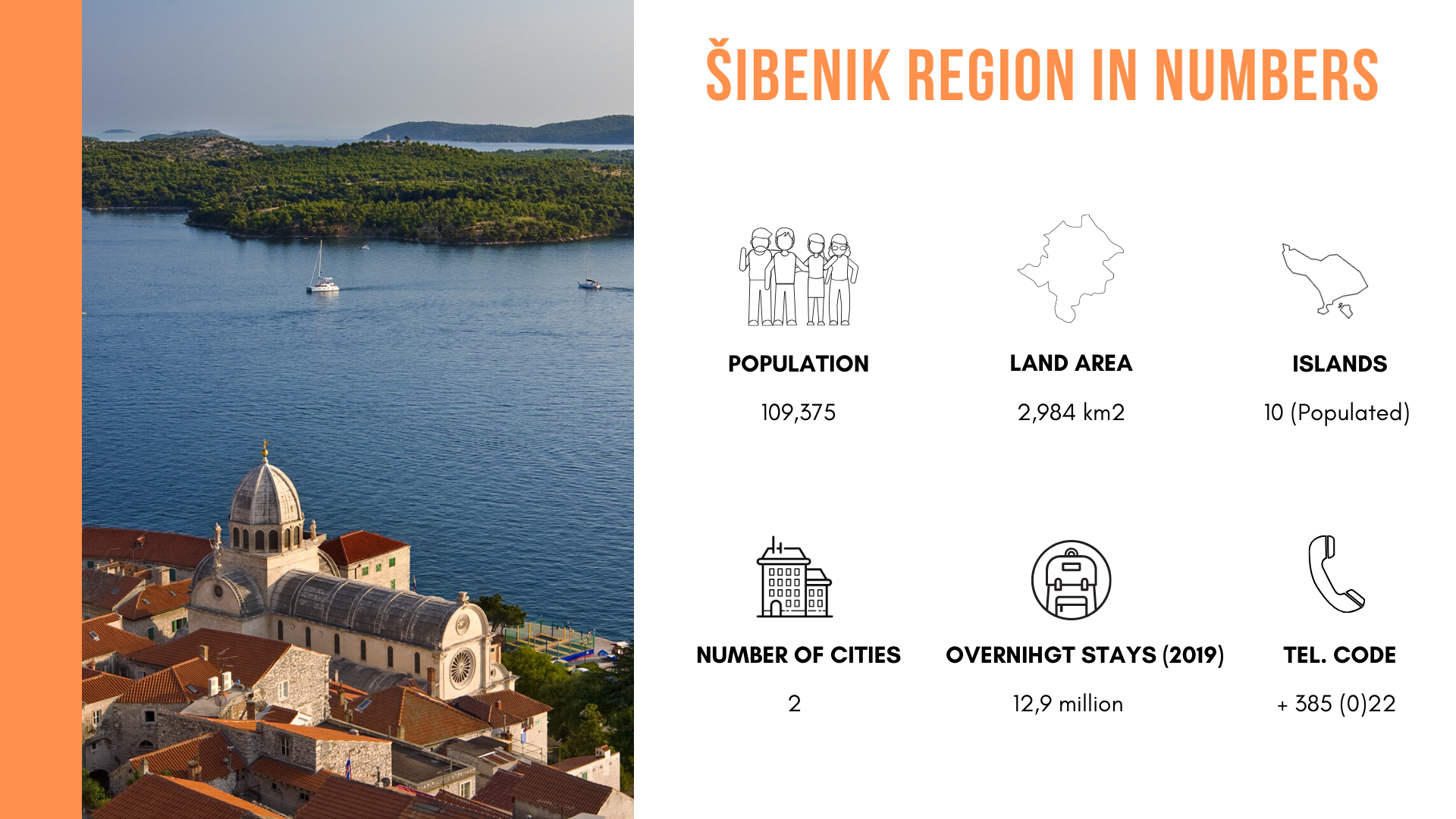 Is the Šibenik region family-friendly?
Šibenik-Knin is a family-oriented region. The whole region has plenty of family-friendly locations like resorts, playgrounds, museums, etc. Šibenik city is the host of the International Children Festival held every June and July. If you are looking for travel accommodation or properties to buy in this part of Dalmatia, you should know that many places have walkable neighborhoods and recreation spots. Most of the properties have enough no-traffic zones and open space. Children discounts are widely available – from museum tickets to hotel accommodation.
Is the Šibenik region for retirement?
Šibenik region is a perfect fit for retirees because of its quiet and comfortable atmosphere. It's a great place to retire and enjoy finer things in life like great wine, warm Mediterranean climate, daily trips, island hopping. Main places like sights, supermarkets, pharmacy are within walking distance. Many retirees claim housing is really affordable and the expenses are not high. The region's countryside is loaded with locations that will fill the imagination with its surreal beauty.
Is the Šibenik region good for investing?
Thanks to its natural position with good traffic infrastructure, closeness to other cities and countries, investors have recognized the opportunity and created many successful business opportunities, especially in the tourist sector. Today, Šibenik has a wide offer of numerous hotel chains, private luxury accommodation, and rural villas with organic gastronomy offer. In recent years most investments were related to new luxury resorts and family-friendly resorts.