Where exactly is the Split-Dalmatia region?
Split region or more precisely Split – Dalmatia county (administrative unit) lies in the southern part of Croatia. If you are looking at the map, the area takes the coastal line from Sevid to Gradac. The elevated hinterland which extends all the way to the border with Bosnia and Herzegovina and the islands are also part of the Split – Dalmatia region.
The region is connected very well with other parts of Croatia thanks to the modern A1 highway (Split-Zadar-Karlovac-Zagreb) and the modern international airport. There is another, smaller airfield on the island of Brač. On the other hand, the area is connected with Italy thanks to the international ferry and cruise lines.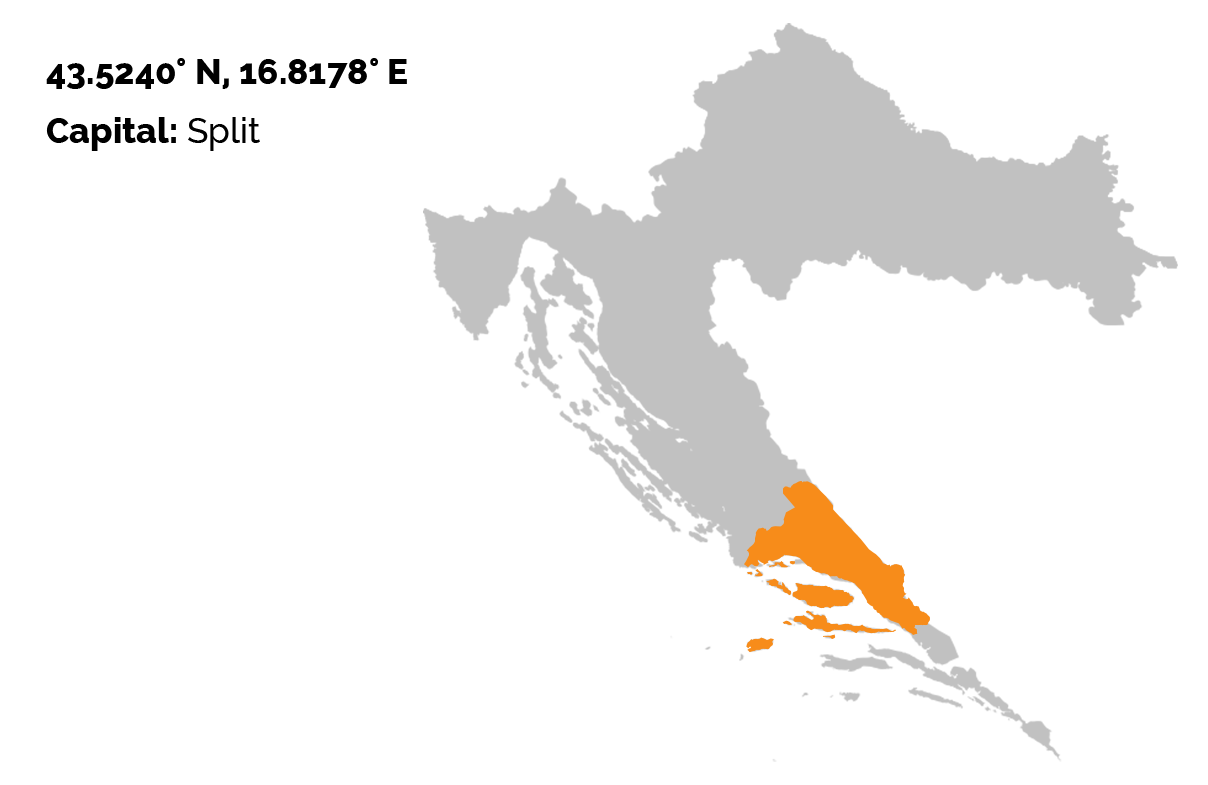 Forged in Ancient Rome
The area of the Split-Dalmatia region was settled long before the Roman Empire, but after the construction of the residential palace for emperor Diocletian, the region started to expand economically and in population. In its long history, Dalmatia was an important cultural and transit point for ages, and you can see that easily thanks to the well-preserved historical cities, palaces, and monuments. Today, most of these historical sites are protected by UNESCO.
Is the Split-Dalmatia region easy to travel around?
The Split-Dalmatia region is very accessible and easy to travel. It has a great traffic infrastructure and geographical position. You can reach your destinations by car, ship, ferry, bus, plane. The roads are in great condition and the network of ferry and bus lines is very wide. Two main roads are the "Autocesta A1" (the fast highway that connects all parts of Croatia), and the Adriatic highway – one of the most beautiful European roads. If you are going to travel around the Split-Dalmatia region you should remember that the ferry and some of the bus lines are seasonal. The number of ferries, train, and bus lines increase during the summer season. During the peak summer season, you can expect crowds in Dalmatian towns, so it is possible that you'll wait on your preferred ferry or bus. Make sure you buy your tickets at least several days ahead.
Useful links for traffic and accessibility in Split-Dalmatia: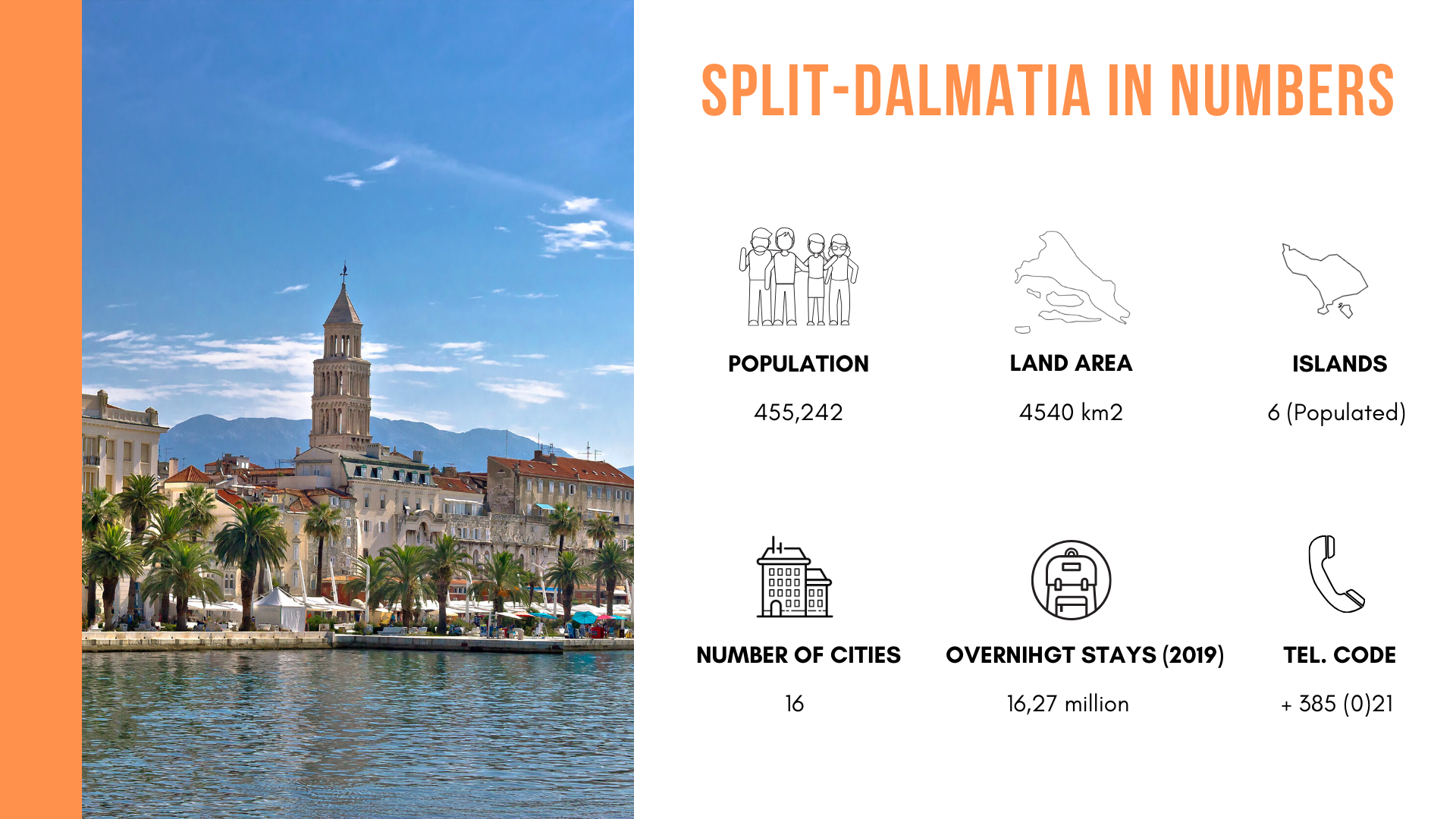 Living in the Split-Dalmatia region?
Split-Dalmatia is a great region to live in if you are looking for a safe, family-friendly place with a warm climate. Accommodation, food, and transport are relatively cheap for one of the top European destinations. Since this is a coastal part of the country, you can expect a little higher price of real estate. People are in general very friendly and most of them speak English. Split-Dalmatia is a very safe region which is not surprising since Croatia is one of the safest places in the world. Tourists feel safe the entire time. The region is perfectly located to go on daily or weekend trips.
Is Split-Dalmatia family-friendly?
Split-Dalmatia is a very family-oriented region. It has many kindergartens, schools and faculties. Cities and towns are full of walkable areas and neighborhoods with playgrounds and parks. Many sites and beaches in the Split-Dalmatia region are family-friendly, which could help you plan your trips or activities.
Is Split-Dalmatia good for retirement?
This is one of the best places to retire. Split-Dalmatia is known for its beautiful landscape, history, and charms. It has an advantageous location for traveling to nearby countries or local cities. With the new rising attention to Croatia, the costs of living are higher, but they are lower than in Western Europe and the United States. Retirees in Split-Dalmatia can enjoy a relaxed atmosphere, warm Mediterranean weather through most of the year, healthy food, and a great selection of wines.
Is Split-Dalmatia good for investing?
Despite having all the advantages, Split was always considered as a transitional point for tourists, from where they would continue their travel through Croatia. In the last decade, Split has spent a lot of effort to change the strategy and become a serious tourist destination. From that point, with the help of new investments, Split is breaking new records every year in terms of tourist visits and stays. Today it is one of the most visited European destinations. Other parts of Dalmatia like Makarska riviera, Omiš riviera, Trogir have a strong reputation among tourists.
The hinterland is attractive, thanks to the intact ecosystem with many species you can't find anywhere in the world. That is why it offers many options for tourists that like activities on their vacation or they simply enjoy spending time in nature. Hinterland area has a huge potential for developing an eco-friendly tourism strategy. Many locals have already successfully actualized great projects by turning their old houses into modern rental villas.
Local municipalities are aware of the potential, which is why they want to come up with new plans that can improve infrastructure and secure all necessary conditions that will turn this area into an attractive eco-friendly destination.
Ten must-visit places in Dalmatia:
Split old town
Klis fortress
Trogir old town
Bol beach, Brač
Old Town, island of Hvar
Makarska beaches
Biokovo Nature Park
Omiš Zipline
Island of Vis
Island on Šolta